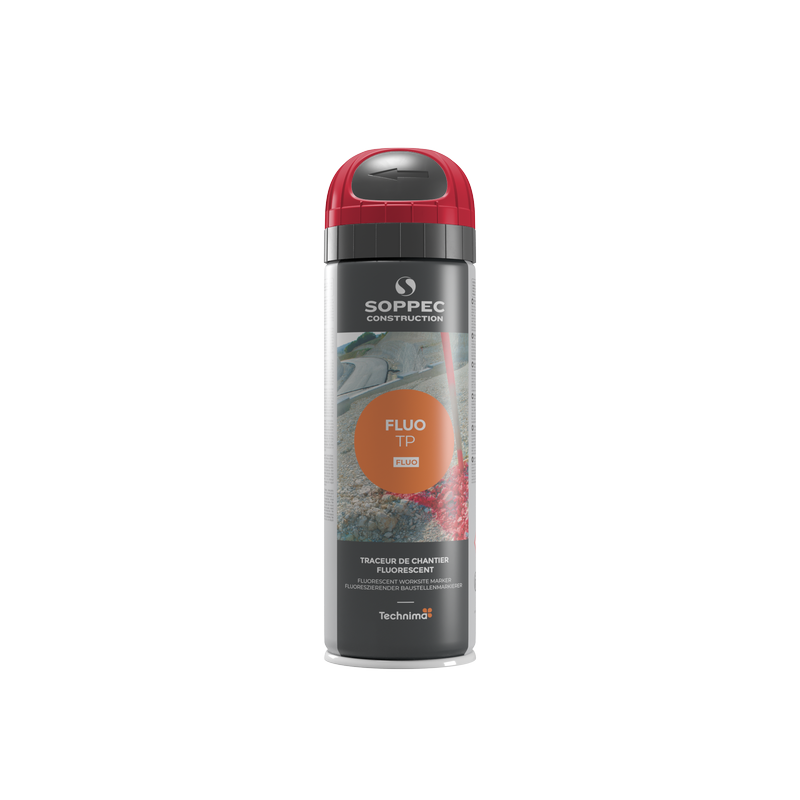  
FLUO TP Neon marking spray paint
FLUO TP marking spray paint is the most visible and the most fluorescent marker on the market. It is particularly popular with surveyors for identification marking and setting-out, but is also used for all general civil engineering works : highways, earthworks, pipework and construction, buried networks. Easy and safe to use, this fluorescent spray paint is fitted with a patented safety spray cap
See product's full description
FLUO TP Neon marking spray paint
FLUO TP : THE HIGHLY FLUORESCENT MARKING SPRAY PAINT
The FLUO TP spray paint is the undisputed reference for construction and public works professionals for all marking requirements :
FLUO TP is the most fluorescent marking spray on the market and offers the highest visibility thanks to its new formula (2016) with an even higher density of fluorescent pigments. Easy and safe to use, Fluo TP is fitted with the patented Soppec "TP" safety cap.
Properties of the FLUO TP marking spray paint
Usable on a very wide range of surfaces such as: concrete, asphalt, grass, gravel, sand, stone, wood.
A particularly robust safety cap (no breakage if a full aerosol is dropped from a height of 1.50m)
Rapid drying: approximately 10 min.
Very good autonomy and coverage ability: 1 aerosol of fluorescent spray paint is sufficient to durably mark an 80m line (2cm wide) using the Soppec marking stick.
High marking duration including on damp surfaces, of up to 12 months (dependent on the surface, the conditions of application and UV exposure).
Temperature range: -20°C to 50°C. Fluo TP is available in a wide range of colours.
Aerosol cans, gross volume 650 ml, net volume 500 ml, in boxes of 12.
Composition
Binder: acrylic.
Pigments: mineral and organic, free from heavy metals.
Solvents: complex blend free from chlorinated solvents and aromatic compounds.
Propellant: specific blend of isobutane and propane.
Data sheet
Volume

500 ml

Product type

Marking paint

Application domain

Roads, earthworks, pipes, construction...

Application area

...

Packaging

Box of 12 cans
Manually or using our purpose-designed application equipment (see bellow).
BEFORE USE: shake vigorously head down.
AFTER USE: purge head up.
Safety data sheets are available free of charge on the internet: www.quick-fds.com.
No paint mist or drips during use.
CLP labelling with a single pictogram.
DANGER
H222 Extremely flammable aerosol.
H229 Pressurised container: May burst if heated.