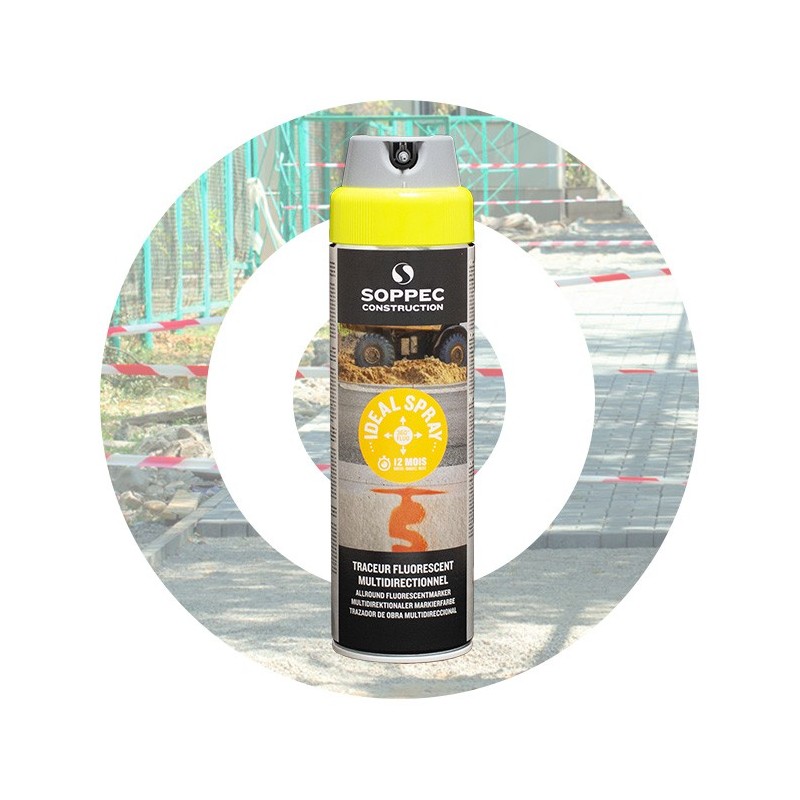  
IDEAL SPRAY 360° marking spray paint
IDEAL SPRAY® is a 360° marking spray paint that can be used for all types of marking and identification, whatever the direction needed, thanks to its multi-directional valve. Preferably use for markings in sewers, tunnels and on all second fix horizontal and vertical surfaces but can be used for road systems, electrical installations, earthworks…
See product's full description
IDEAL SPRAY 360° marking spray paint
IDEAL SPRAY : THE PERFECT SOLUTION FOR ALL KINDS OF MARKINGS
Properties of the 360° marking spray paint
Multi-directional valve: use in 360° (upright and upside down)
Excellent adhesion to many surfaces (even damp): concretes, bitumens, grass, wood, etc.
Quick drying: about 10 min
High visibility even from afar thanks to its highly-fluorescent formulation
Cap the same colour as the paint
Marking period: nine to twelve months depending on the surfaces and application conditions
Usage temperatures: -20°C to 50°C
Can be used for tunnel and the mining industry
Ideal Spray is available in a wide range of colours.
Aerosol cans, gross volume 650 ml, net volume 500 ml, in boxes of 12.
Composition
Binder: acrylic.
Pigments: mineral and organic, free from heavy metals.
Solvents: blend free from aromatic or chlorinated compounds.
Propellant: specific blend of isobutane and propane.
Data sheet
Volume

500 ml

Product type

Marking paint

Application domain

Roads, earthworks, pipes, construction...

Application area

...

Packaging

Box of 12 cans
Manually.
BEFORE USE: shake vigorously
Do not purge (multi-directional).
Can be used head-up and head-down, apply no more than 10 cm from the surface to ensure clear and precise marking.
Safety data sheets are available free of charge on the internet: www.quick-fds.com.
No paint mist or drips during use.
CLP labelling with a single pictogram.
DANGER
H222 Extremely flammable aerosol.
H229 Pressurised container: May burst if heated.