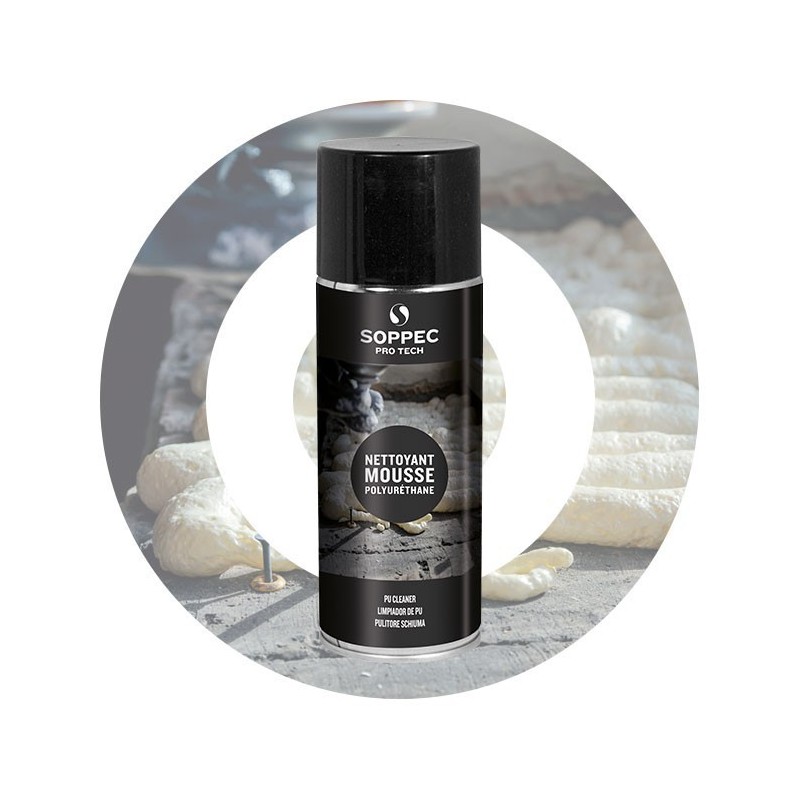  
Polyurethane Foam Cleaner
The Soppec PRO TECH Polyurethane Foam Cleaner is designed to remove fresh PUR (polyurethane) foam after general work operations. It will also remove glue, wax, grease and oil residues, etc. It includes a spray and additional connector designed for using to clean a PUR spray gun thus extending its working life.
See product's full description
Polyurethane Foam Cleaner
Specifications of the Polyurethane Foam Cleaner
Packaging: 400 ml
Composition: acetone
Appearance: colourless clear liquid
Propellant: propane-butane
VOC-EU g/l: 715 g/l
Relative density (20°C g/ml): 0.715
Vapour pressure at 20°C: 3.1 bar
Spray flow: 2.5 g/sec
Data sheet
Volume

400 ml

Product type

Technical product

Application domain

Surface cleaning

Application area

...

Packaging

12 per box
Shake thoroughly before use. Soppec Polyurethane Foam Cleaner may not be compatible with certain painted and plastic surfaces, we therefore recommend carrying out a test beforehand.
To remove fresh PUR foam
Place the nebuliser on the aerosol valve and maintain in a vertical position. Spray abundantly onto the foam residues. Leave to act for several minutes then remove the foam. Repeat if necessary.
To clean a foam gun
Screw the aerosol onto the gun adapter (do not fit the nebuliser) and squeeze the gun trigger several times to fill it with the PUR cleaner. Continue until foam is no longer produced. Leave the PUR Cleaner for about 10 minutes and then action the spray gun.
Safety data sheets are available free of charge on the internet: www.quick-fds.com.
CLP labelling with a single pictogram.
DANGER
H222 Extremely flammable aerosol.
H229 Pressurised container: May burst if heated.
H319 Causes serious eye irritation.
H336 May cause drowsiness or dizziness.